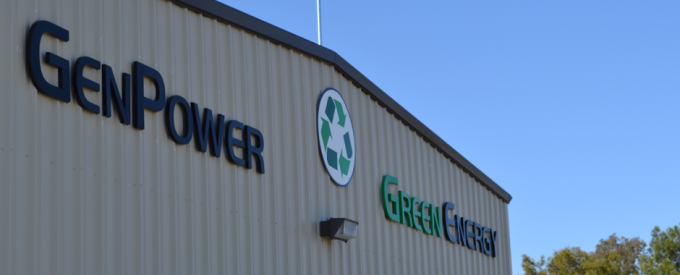 Placer County's Largest Green Energy Producer Opens Expanded Facilities
Earth Day Ribbon Cutting Celebrates Powering 3,000 Homes with Local Garbage
Roseville: Energy 2001, Placer County's largest Green Energy producer, was joined by Placer County Supervisor Jack Duran, Roseville Mayor Susan Rohan, Lincoln Council Members Peter Gilbert, Stan Nader and Spencer Short, Rocklin Mayor Diana Ruslin, Rocklin City Councilman Greg Janda and other local leaders for an Earth Day ribbon cutting celebrating the public/private partnership's recent expansion.
"From the beginning, our goal has been to develop and deploy emerging energy technology in a way that delivers tangible economic and environmental benefits for the community as a whole," said Laura Rasmussen, Energy 2001's owner and president. "With the support of WPWMA, we are realizing that objective—now with even greater capabilities through our expanded landfill-gas power plant. By adding three additional generators, we have doubled our ability to capture air pollutants and convert them into valuable electricity."
Rasmussen continued, "Our plant produces enough electricity to power 3,000 homes – all done in a public/private partnership that benefits everyone."
"The power plant at Western Regional Sanitary landfill is providing ratepayers an innovative and economical solution to meeting the air quality demands of waste disposal operations," WPWMA Deputy Executive Director Bill Zimmerman added. "Energy 2001's expansion is an important milestone as we work to meet the growing waste management needs of our community."
Founded in 1997, Energy 2001 operates one of over 520 Landfill Gas to Electricity power plants in the United States—through a partnership with the Western Placer Waste Management Authority that involves extracting potentially hazardous landfill gases, and using engines to converting those gases into electricity which is then fed back into the local power grid.
Energy 2001 is one of Placer County's most innovative small business success stories. It has constructed and operates a multi-million dollar, 5 MegaWatt Power Plant at the Western Regional Sanitary Landfill near Roseville, California. This facility, which includes a small flare and six CAT 3516 Landfill Gas Electricity Generators, is the product of a sixteen year partnership with the Western Placer Waste Management Authority (WPWMA)—a joint powers authority created in 1978 to meet the recycling and waste disposal needs of the citizens of Roseville, Lincoln, Rocklin, Loomis, Auburn and Colfax.
Laura Rasmussen, the President of Energy 2001 is an accomplished entrepreneur—an MBA educated business attorney who led successful enterprises in the legal, manufacturing, real estate and retail sectors before becoming Energy 2001's Owner and Chief of Operations. Laura lives in Rocklin with her husband Michael.